Olivia Mae Hauboldt was recently announced as the winner of WISA's annual Fire Department Youth Scholarship Award. She has received $1,500 for the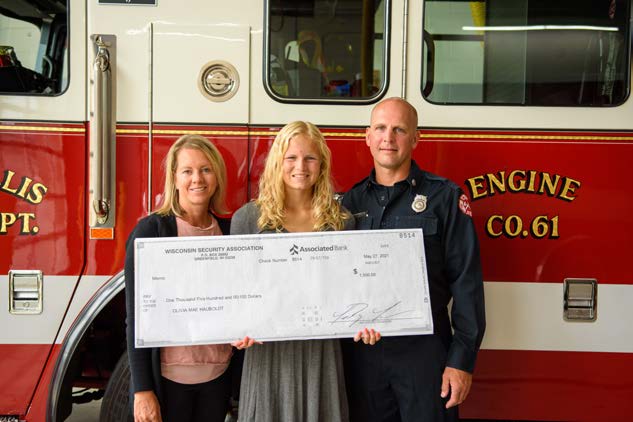 scholarship to help her with college expenses as she enters the University of Minnesota-Twin Cities this fall.
A graduating student at Muskego High school in 2021, Olivia is the daughter of Jonathan Hauboldt, a Captain in the West Allis Fire Department. High School students who are the children of law enforcement or fire department personnel are eligible for the award. WISA awards $1,500 annually for both the police and fire scholarship awards as a thank you to the police and fire department for partnering with alarm professionals.
With a 4.0 GPA (Grade Point Average), Olivia ranked tenth in her graduating class. She participated on the swim team for four years, softball for two years and track for one year. She was a member of the Student Council for four years, Best Buddies for three years, National Honor Society for one year and the Spanish National Honor Society for one year.
During the presentation of her check award, Olivia thanked WISA and the West Allis Fire Department for the opportunity the scholarship offers her. She wrote in part of her essay for the contest: "I am incredibly grateful to a have a firefighter as my dad. He has taught me that helping others should always be a priority and
to live each and every moment fully. My dad has pushed me to become the best version of myself and to stay involved in the community. Furthermore, his job has encouraged me to go into the medical profession of nursing in the future. I have learned to always look for the positive in negative situations I would not be the person I am today without my dad's job as a firefighter. My dad is my hero."
WISA is proud to support future leaders like Olivia in their pursuit of their higher education goals. For more on the WISA Youth Scholarship program, go to: https://www.wiesa.org/about/youth-scholarship-information/.