Youth Scholarship Program
WISA Youth Scholarships For High School Seniors Whose Parents are Active Members of Wisconsin Police and Fire Departments
The Wisconsin Security Association (WISA), is pleased to announce the availability of two college scholarships for graduating seniors whose parents are full-time, active members of a Wisconsin police or fire department. One $1,500 Youth Scholarship will be awarded to a son/daughter of an active-duty police department member and one to a son/daughter of an active-duty fire department member. Since 2010 WISA has awarded $40,000 in scholarships.
A first place winner will be chosen from the Wisconsin Association two awardees and will be submitted to the Electronic Security Association for competition for one of two national college scholarships. The first place national winner will receive $7,500 and the second place national winner receives $2,500.
Applications are now being accepted for the 2024 Youth Scholarship Program. All high schools, fire departments, and police departments in Wisconsin have been emailed the Youth Scholarship application. Schools and fire and police departments are encouraged to post the scholarship application form on their websites. The application form includes submission information and the rules and eligibility requirements. WISA application deadline is Friday March 1, 2024. Applications must be sent on or before this deadline to be accepted.
Awards are based on a combination of academic achievement, national test scores, extracurricular participation and the essay. In addition to completing the application and submitting the appropriate documentation, each student must write an essay explaining "What it means to me to have my parent or guardian involved in securing our community."
Contact Nicole Szopinski for questions regarding the Youth Scholarship Program.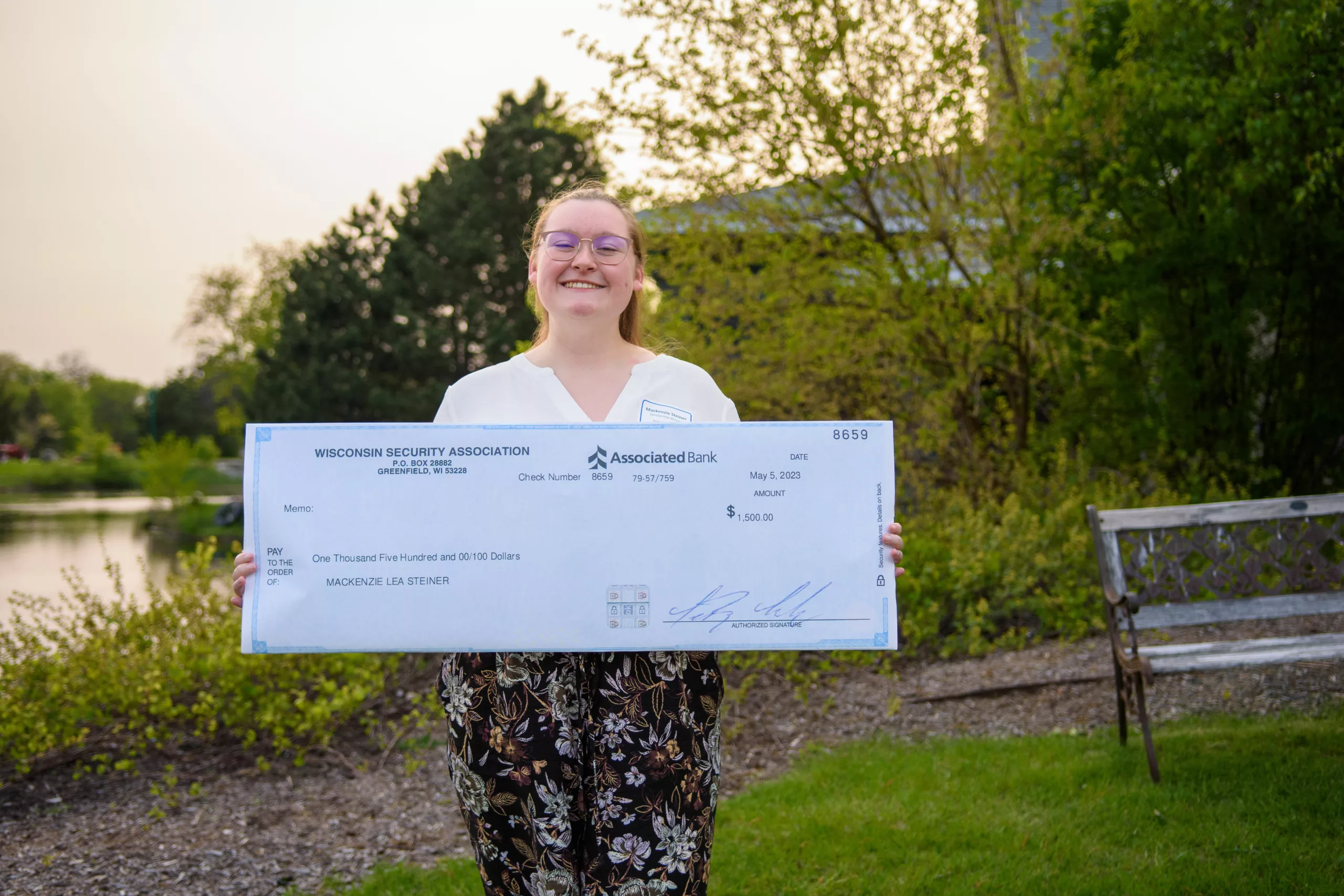 Mackenzie Steiner
Daughter of Police Officer Mark Steiner, City of Kewaskum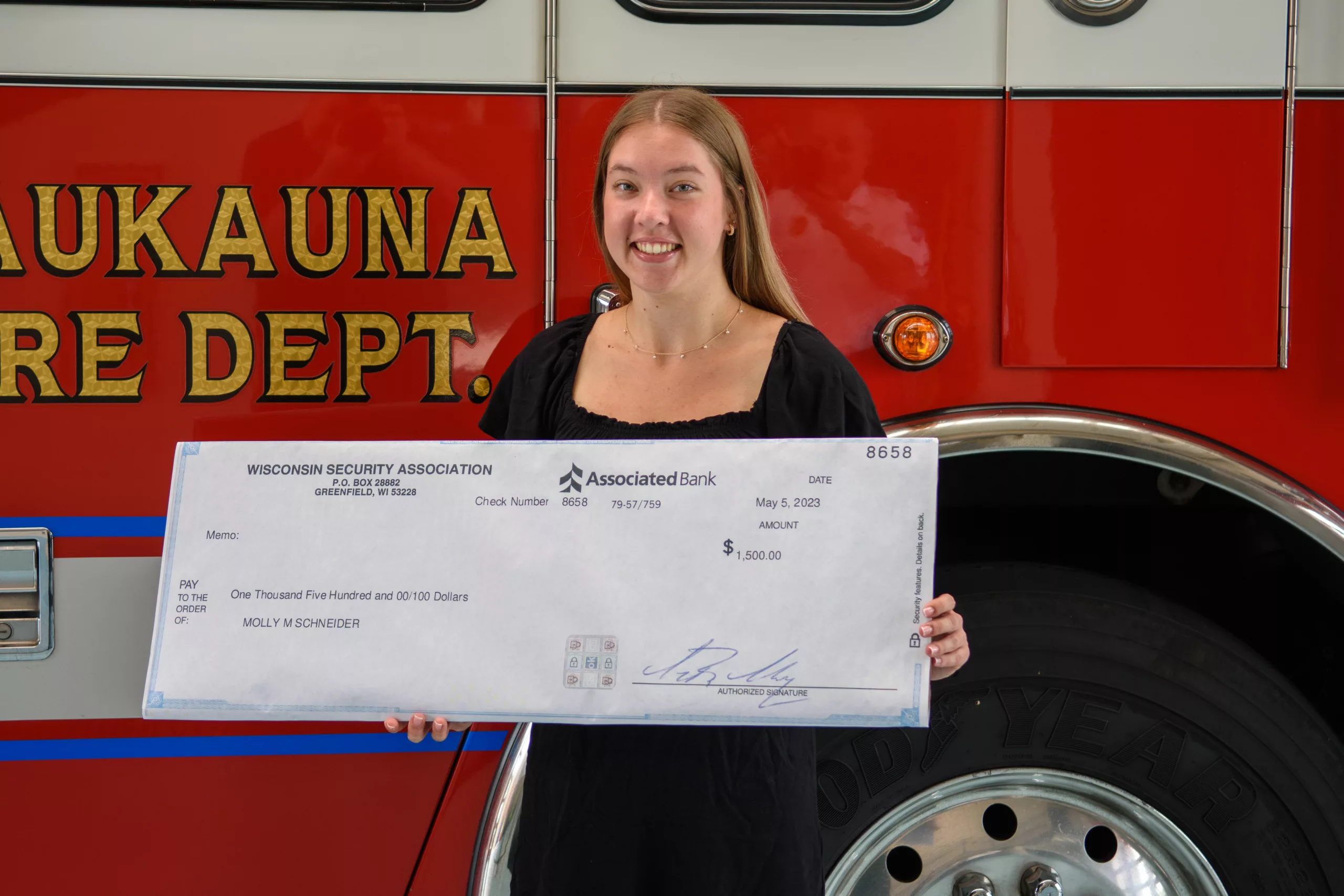 Molly Schneider
Daughter of Assistant Chief of Emergency Medical Services Craig Schneider, Kaukauna Fire Department
Past Youth Scholarship Winners
2023
Mackenzie Steiner
Daughter of Police Officer Mark Steiner,
City of Kewaskum Police Department
Molly Schneider
Daughter of Assistant Chief of Emergency Medical Services Craig Schneider,
Kaukauna Fire Department
2022
McKaylie Justman
Daughter of Patrol Officer Jeffrey Justman
Janesville Police Department
Kristen Patterson
Daughter of Driver Tim Patterson,
Neenah Menasha Fire Rescue
2021
Brooke Bolwerk
Daughter of Deputy Sherriff Susan L. Bolwerk,
Outagamie County Sheriff's Department
Olivia Hauboldt
Daughter of Jonathan Hauboldt Captain,
West Allis Fire Department
2020
Hannah Wenzel
Daughter of Police Officer Matthew Wenzel,
City of Milwaukee Police Department District 3
Courtney Isselmann
Daughter of Eric Isselmann Firefighter & Paramedic,
Two Rivers Fire Department
2019
Maxwell Unger
Son of Deputy Sheriff Kimberly Unger,
Waukesha County Sheriff's Department
Jacob Hoening
Son of Norman Hoening Fire Lieutenant,
Kenosha Fire Department
2018
Zachary Gross
Son of Detective Charlene Craft , Waukesha Police Department
Lauren Konkol
Daughter of Fire Service Member Raymond Konkol, Waukesha Fire Department
2017
Alexa Bonneville
Daughter of Investigative Lieutenant Lawrence Bonneville, Menasha Police Department
Hailey Herriges
Daughter of Fire Service Member James Herriges, Kohlsville Fire Department
2016
Alison Welch
Daughter of Cheryl Welch, Milwaukee Police Department
Daughter of Lieutenant Thomas Welch, Milwaukee Police Department
Kayla DuMez
Son of Lieutenant John Dumez, Oustburg Fire Department
2015
Jessica J Nelson
Daughter of Deputy Sheriff Jeffrey Nelson, Barron County Sheriff's Department
Seth Tautges
Son of Lieutenant Theodore Tautges, Wausau Fire Department
2014
Rachel Welch
Daughter of Lieutenant Thomas Welch, Milwaukee Police Department
Mary Holz
Daughter of Fire Fighter Greg Holz, Greenfield Fire Department
2013
Alexis Humphrey
Daughter of Fire Fighter Mark Humphrey, Eau Claire Fire Rescue
Michaela Yopps
Daughter of Officer, Kyle Trimble, Marquette County Sheriff's Department
2012
Thomas Tushaus
Son of Sergeant, Mark Tushaus, Brookfield Police Department
Jason Becker
Son of Fire Fighter, Bryan Becker, Village of Allouez Fire Department
2011
Amanda Arnold
Daughter of Trooper, Jeff Arnold Wisconsin State Patrol, Northwest Region
Jacob Chitel
Son of Lieutenant Alan Chitel, Milwaukee Fire Department
2010
Kyle Wegner
Son of Officer, Russell Wegner, Hartford Police Department
Hana Marin
Daughter of Fire fighter/Paramedic Carl Marino, Janesville Fire Department